Bindings & Conversion Kits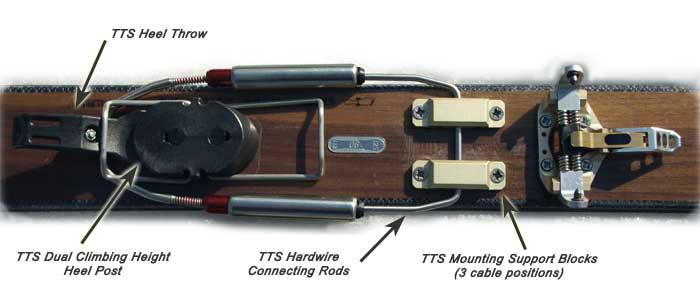 Bindings Include:
TTS Tech Toe
TTS Mounting Support Blocks
TTS Hardwire Connecting Rods
TTS Dual Climbing Post Heel Riser
TTS Flexwire Heel Bail
Compression Springs
TTS Heel Throw
Weight (complete bindings):

1.86 lbs./Pair with Aluminum Race Toe
2.12 lbs./Pair with Speed Toe

Available in two sizes: Standard for up to size 26 boots, Long for size 26.5 and over

For F1/F3 boots Standard fits up to size 27, Long for 27.5 & over
WARRANTY Our bindings and accessories are warranted to be free from manufacturing defects for one year from the date of purchase. If a part fails during this period, contact us for a replacement at no charge. If a part fails after this period, you may contact us for a replacement at a reasonable charge. Normal wear and tear is not covered under warranty.
WARNING! The Telemark Tech System is NOT A SAFETY RELEASE BINDING AND MAY NOT PREVENT INJURY. While it is designed to release in some circumstances it may not release in any particular circumstance. This Prototype of The Telemark Tech System may have an unforeseen failure that could result in injury to the user. Users must inspect and clean ice from the toe at all times when engaging the binding, failure to do so may result in an undesired release from the binding. Always wear a ski leash when using the bindings at a resort. Engaging the touring lock mechanism may reduce the chance of releasing from the binding when skiing exposed slopes.
Touring Bindings (Complete Binding) $399.00
Full Conversion Kit (Basic Conversion Kit & TTS Toe - springs not incl.) $349.00
Basic Conversion Kit (TTS Mounting Blocks, Rods & Heel Kit) $149.00